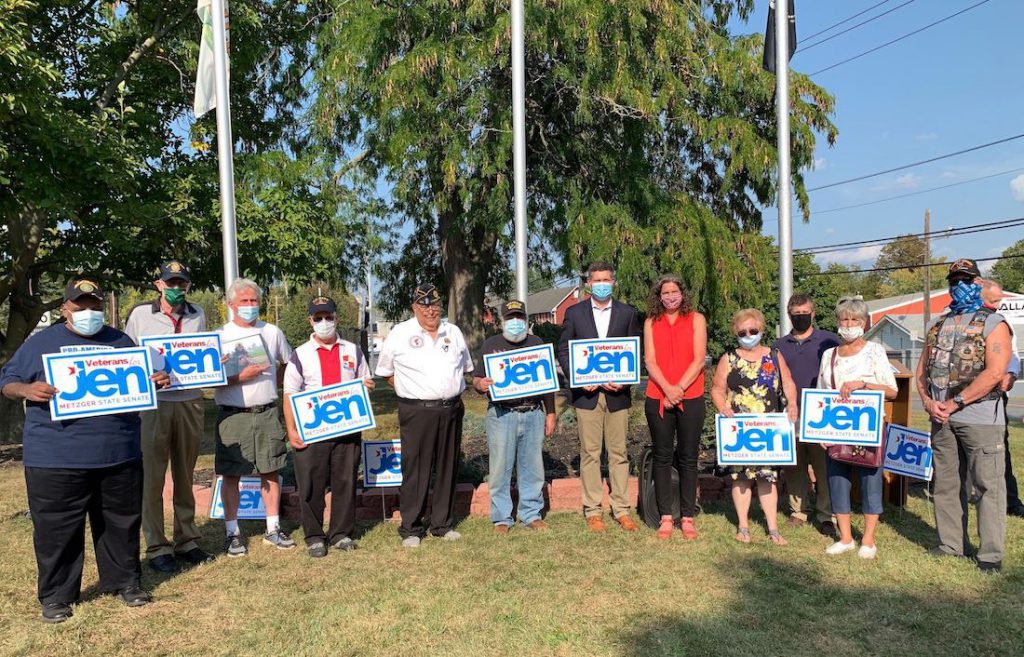 Veterans from Sullivan, Ulster, and Orange Counties Gather in Support of Senator Jen Metzger's Re-election Campaign
Hudson Valley and Catskills, NY…On Friday afternoon, local veterans and veteran advocates, elected officials, and community leaders came together at the Town of Wallkill Veterans Memorial Park to endorse Senator Jen Metzger's re-election campaign for New York State Senate. The event, led by Ulster County Executive and United States Army veteran Pat Ryan, included speakers and attendees who served in the Korean, Vietnam, and Iraq wars and in the National Guard. 
During her first term in office, Senator Metzger has been a strong advocate for the veteran community, partnering with veterans' service organizations to host resource fairs around the 42nd Senatorial district to connect veterans with programs and services in their area. The Senator, whose father served in the Korean War and whose  grandfather served in World War II, has championed mental health support for veterans, succeeded in securing new state funding to create veteran peer support programs in Ulster and Sullivan Counties, as well as securing continued funding for Orange County's successful Vet2Vet program. She also introduced legislation designating September 22 as an annual observance of Veteran Suicide Awareness and Remembrance Day, which passed the Senate unanimously in July. In addition, Metzger has worked to secure grants to address local transportation and housing needs for veterans in her district, and she has supported a number of other statewide legislative initiatives for veterans that were passed by the State Senate this year.
Ulster County Executive and U.S. Army Iraq War veteran Pat Ryan said, "I am really proud to support Jen as a veteran, as an elected official, and as someone who has seen her engage with veterans and fight like hell to get what we need– and deliver. The new funding Senator Metzger worked to secure for the Vet2Vet program in Ulster County, and also in Sullivan County, will help veterans who need it most. I enthusiastically endorse Jen and look forward to working hard to keep her in office."
Vincent James "Jim" Scali, U.S Army Korean War veteran, Commander of the Town of Wallkill American Legion Post 1181, and Commander of the Korean War Veterans Association (KWVA) chapter 202, Orange County said, "I'm here to give my support to Senator Metzger, somebody who knows and understands the sacrifices made by veterans, somebody who knows and appreciates the devotion of an all-volunteer military and fire department, and somebody who realizes how the dangerous occupation of our men and women in blue is. Someone who knows who knows how she got here and who she works for, and someone who, during the most trying times of racial division, high unemployment, and fear of our future, is willing to use common sense in government to eradicate it."
Rosie Otero-Walsh, U.S. Army National Guard veteran, retired NYPD detective, and 2019 NYS Senate Veterans' Hall of Fame inductee said, "As a retired detective from the police force, I know that you've been there to support us in every way. And not only that… what I love about Jen is that whenever she is called for the youth, and as a youth advocate, you're always there to support us and come out and make things happen for the program. I want to say thank you with all of my heart for that because the kids really admire you and look up to you and will continue to do so. Most importantly, I love you, I support you, and thank you for being such a good friend."
Rocky Ortega, U.S Army Vietnam War veteran said, "I met Jen… when we brought a replica of the Vietnam Wall to Sullivan [County]– one phone call to her office, and she was there for us. We went on to work [on] the suicide prevention, the homeless veterans in Sullivan County, and a number of other projects. I don't know about red or blue, I know Army green. One of the things we used to say in 'nam was, 'we got your six,' which means we had your back. I'm here to say: Jen, we got your six."
Everett Cox, U.S. Army Vietnam War veteran and Orange County Vet2Vet program facilitator said, "Senator Jen Metzger has been a strong supporter of the veterans community and a critical ally in getting the support and services we need right here in the district. Whether it is working to expand the Vet2Vet Peer support program or working to connect veterans to resources with the four resource fairs she held across this district this year, she is working overtime to make sure that no veteran gets left behind. I am proud to support her re-election campaign because I know she will continue to be an ally and voice for veterans in the State Senate."
Bill Whetsel, U.S. Air Force veteran and Rumshock Veterans Foundation President said, "The Rumshock Veterans Foundation is a not-for-profit collaboration which is dedicated to providing meaningful and productive life and work environments for veterans who are suffering from the traumas of war. Our programs are intended to help veterans, after discharge, address any challenges they may face as a result of their military service; while honoring their dedication and the sacrifices they have made on behalf of our country. As President of the Rumshock Veterans Foundation, I endorse Senator Metzger who is running for re-election to represent State Senate District 42. Our foundation recently caught the attention of Senator Jen Metzger. Her immediate support of our mission has been greatly appreciated. Senator Metzger has proven time and again that she is dedicated to improving the quality of life for our veterans as well as all her constituents. I hope you will join me in supporting Senator Jen Metzger in the upcoming election."
Carol Oslzanecki, Blue Water Navy Veterans Association Project Manager said, "Veterans and their families need to know that they are not alone. Senator Metzger's Veteran Suicide Awareness and Remembrance Day bill is one step forward in helping educate veterans' loved ones so that they can recognize when their veteran is having a hard day and help prevent future tragedies. I can see that we are making some progress for our veterans and their families. There is always room for improvement and I think Senator Metzger is on the same page."
Jen Metzger represents the 42nd Senate District, which includes all of Sullivan County and parts of Delaware, Orange, and Ulster Counties.
###