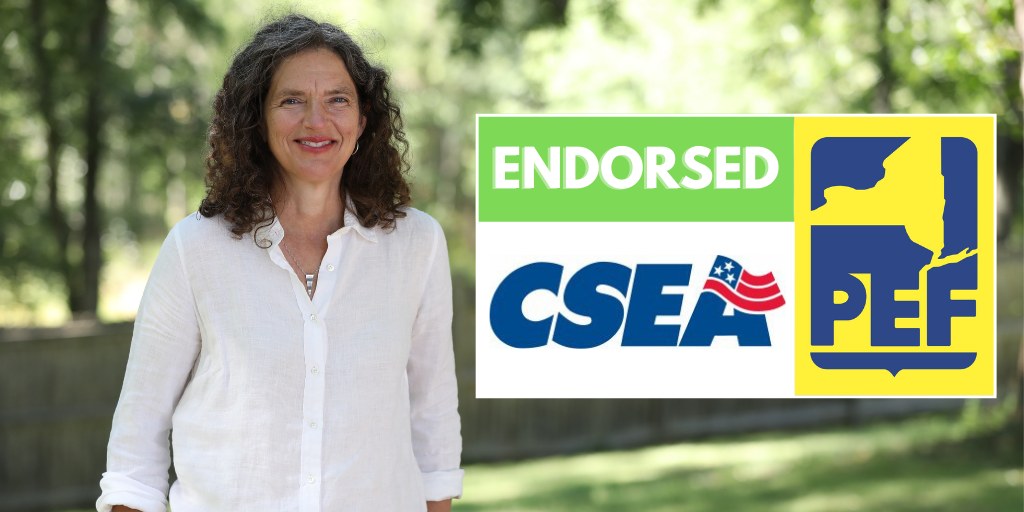 Two Largest State and Local Government Worker Unions, CSEA and PEF, Endorse Senator Jen Metzger's Re-election Campaign 
Hudson Valley and Catskills, NY…This week, Senator Jen Metzger announced endorsements of her re-election by the two largest unions representing state and local government workers, the Civil Service Employees Association (CSEA) and Public Employees Federation (PEF). During her first term in office, Senator Metzger has worked closely with both unions on important local issues, including working to prevent state budget cuts in 2019 to Orange County's Valley View Center and other nursing homes in the state, and successfully defeating an effort of the Governor in the 2020 budget to merge the N.Y. Bridge Authority merger with the N.Y. Thruway Authority. Throughout the COVID-19 pandemic, Senator Metzger has been in communication with PEF and CSEA employees across the district, and has been advocating on their behalf for measures to protect the health and safety of these frontline workers. 
"I am honored to receive the endorsements of CSEA and PEF, which represent thousands of workers across my district," said Senator Metzger. "I have been proud to stand with them in important fights during my first term in office, and I'm deeply appreciative of the vital work of their members in delivering essential programs and services to our communities. I look forward to continuing our work together on behalf of our public sector workers and our communities." 
In the 2018 election, CSEA endorsed Senator Metzger's opponent, Republican Annie Rabbit. 
"Senator Metzger has had a very productive and impressive first term in office, and her background as a town council member allows her to be knowledgeable on both state and local government issues," said Anthony Adamo, CSEA Southern Region President. "I'm proud of the relationship we have forged with Jen over the past two years, and look forward to a continued relationship to benefit the hard working men and women of CSEA and middle class families across New York."
"The 52,000 members of the NYS Public Employees Federation are proud to stand by Senator Jen Metzger for re-election to the NY Senate's 42nd district because she supports the needs of working families and the public programs and services that support them in their everyday lives."  said NYS PEF President Wayne Spence.
Jen Metzger represents the 42nd Senate District, which includes all of Sullivan County and parts of Delaware, Orange, and Ulster Counties.
###