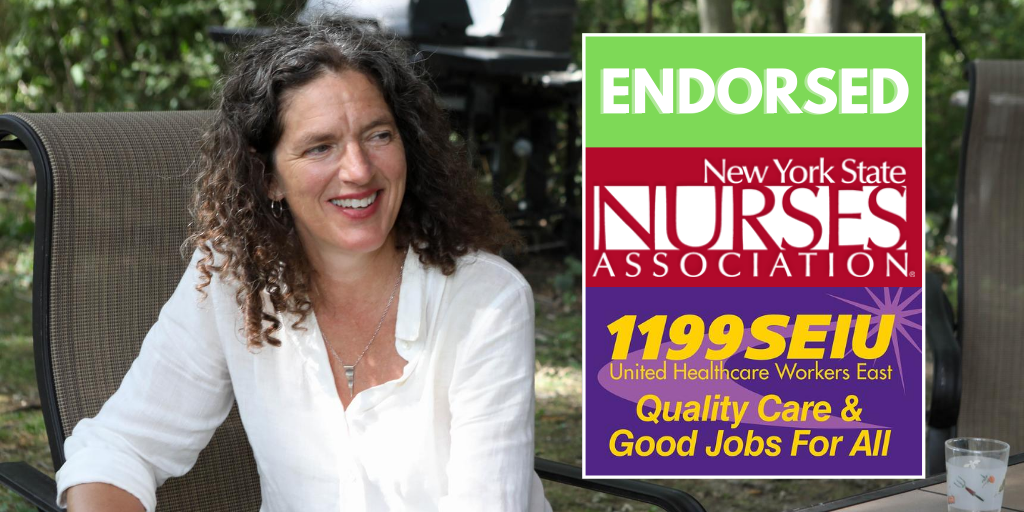 Frontline Workers' Unions Endorse Jen Metzger for Re-election to New York State Senate District 42
Hudson Valley and Catskills, NY...Today, Senator Jen Metzger (SD-42) announced endorsements of her re-election campaign by two major labor unions who have been on the frontlines of fighting coronavirus—New York State Nurses Association (NYSNA) and 1199 Service Employees International Union (SEIU), which together represent over 100,000 nurses and healthcare workers across New York. Throughout this pandemic Senator Metzger has worked to support these essential workers, fighting for hazard pay, sufficient PPE supplies, and stronger paid sick leave, as well as collaborating on local issues like trying to prevent a permanent move of mental health and detox facilities from HealthAlliance Hudson Valley in Kingston. 
"I am honored to receive the endorsements of NYSNA and 1199SEIU, whose members have been on the frontlines of this pandemic, putting themselves at risk to care for the sick and for our most vulnerable community members in hospitals, healthcare facilities, nursing homes, pharmacies, and in-home care. During my first term in the State Senate, I have been proud to stand with them in the fight for safe staffing and working conditions, access to affordable healthcare, and a standard of living our healthcare workers deserve, and I look forward to continuing our work together for a healthcare system that works for all us," said Senator Metzger.
Maurice Brown, 1199SEIU Political Director, Hudson Valley/Capital Region said, "In these difficult times when Hudson Valley working families are concerned with their health and their livelihoods, 1199SEIU members know they can count on Senator Metzger to stand with us in Albany and protect funding for our hospitals and nursing homes. 1199SEIU healthcare workers are talking to our co-workers about the importance of electing Jen Metzger, who we believe will fight honestly for good jobs, racial and economic justice, accessible healthcare and a state that works for us all." 
"NYSNA is proud to support Jen Metzger for re-election in New York's State Senate District 42," said NYSNA President Judy Sheridan-Gonzalez, RN. "Jen understands the need for patients in her district to have access to essential healthcare services, like inpatient mental healthcare and detox services at HealthAlliance Hudson Valley in Kingston. From healthcare, to education, to the environment, and the economy, we know Jen will continue to fight for the Hudson Valley's working families."
Jen Metzger represents the 42nd Senate District, which includes all of Sullivan County and parts of Delaware, Orange, and Ulster Counties. 
###