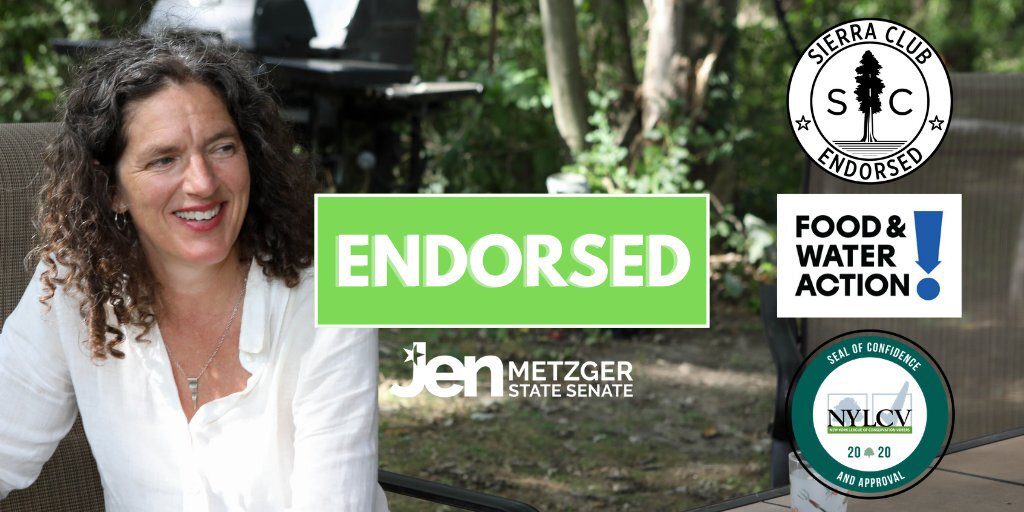 Top Environmental Groups Endorse Senator Jen Metzger for Re-Election
Hudson Valley and Catskills, NY…This week, Senator Jen Metzger announced endorsements from the New York League of Conservation Voters (LCV), the Sierra Club, and Food and Water Action–three leading national environmental groups that applaud Metzger's leadership to address climate change, create a clean energy economy, and protect New York's irreplaceable natural resources and open spaces.
Since entering the State Senate in 2019, Metzger has introduced a number of bills to move New York off of fossil fuels, including a permanent statutory ban on fracking, the Freedom from Fossil Fuels Act to prohibit new fossil fuel infrastructure, and a package of bills to promote clean transportation in New York, among other initiatives. Senator Metzger serves on the Senate Environmental Conservation Committee and Energy & Telecommunications Committee, and played an active role in the Senate's working group on the nation-leading Climate Leadership and Community Protection Act that was signed into law last year.
"Our health and well-being, and the economic vitality of our region, depend on responsible environmental stewardship, and I'm proud to have the endorsement of three leading organizations dedicated to protecting our natural resources and fighting climate change," said Senator Metzger. "We've gotten a lot done in my first term and I look forward to our continued work together to create a sustainable, clean energy economy that creates good-paying green jobs in our Hudson Valley and Catskills communities."
Julie Tighe, President of the New York League of Conservation Voters, said, "Senator Jen Metzger is committed to protecting our environment and is a leader in the fight against climate change. Not only did she help get the Climate Leadership and Community Protection Act passed, Senator Metzger supports many more of NYLCV's priorities including protecting the Delaware River Watershed, improving resiliency, and promoting green infrastructure. We are proud to endorse her in her re-election and we urge voters in Senate District 42 to cast their ballots for her on Election Day."
Alison White, Vice-Chair of the Sierra Club Mid-Hudson Group, said, "The Sierra Club is pleased to endorse the re-election of Jen Metzger to the New York State Senate. Senator Metzger is a passionate and effective champion of the environmental movement who shares the Sierra Club's commitment to a safe, clean energy future. She is a co-sponsor of New York's Climate Leadership and Community Protection Act, and we are confident that she will continue to work to protect our New York families' health, air and water."
Emily Skydel, Food & Water Action's Hudson Valley organizer, said, "Jen Metzger is a proven climate leader with a track record of real accomplishments in the fight to move off fossil fuels to renewable energy. Metzger helped win New York's ban on fracking in 2014, and as a newly elected state senator she was the leader this year in making that ban the law. Metzger has been a true champion in the fight against dirty fossil fuel infrastructure, helping stop the Pilgrim Pipelines and opposing the Danskammer power plant. Food & Water Action enthusiastically endorses Metzger's re-election campaign."
Senator Metzger represents New York's 42nd District, a primarily rural and small-town district in the Hudson Valley and Catskills regions, and has long been an advocate for its protection. Before joining the State Senate in 2019, Metzger directed Citizens for Local Power, a non-profit organization helping communities shift to a locally-based clean energy economy. Metzger also served for over a decade in local government in Rosendale, where she served as Chair of the Rosendale Environmental Commission, headed up the Town's Climate Change Task Force, and continued to lead local climate and environmental protection efforts as Deputy Town Supervisor, and later as a Town Councilwoman.
Jen Metzger represents the 42nd Senate District, which includes all of Sullivan County and parts of Delaware, Orange, and Ulster Counties.
###