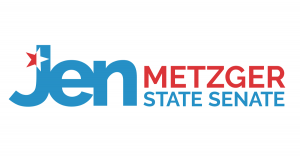 Thank you.
The ballots have finally all been counted, and we have fallen just short. The final margin will be less than one percentage point. It was a painfully close election, and there were some challenging headwinds.
Serving in this office is the most fulfilling challenge that I have ever undertaken, and I am so grateful to have had the opportunity. All I have ever wanted is to bring about positive change that improves people's lives, and I have been fortunate to serve in the state legislature at a time when meaningful change became genuinely possible.
I'm proud of everything that we've accomplished during my time in office. We've made incredible progress in so many areas, and that progress is here to stay. Because of the work we've done, our climate and environment are better protected, our justice system is fairer, our reproductive rights are enshrined in law, our civil rights protections are more inclusive, and our election laws make it easier for people to exercise their most fundamental democratic right to vote. We've passed laws I introduced to address important needs in our region, like closing the broadband gap, supporting our family farms, protecting our open spaces, and expanding affordable access to telehealth services. There is so much more to do — there will always be so much more to do — but we have made real, measurable progress in a very short time.
We've also been able to help so many deserving local projects and programs move forward. The many dedicated people doing hard work in our communities are inspiring, and I was so happy to be able to partner with local leaders and advocates in so many areas: protecting survivors of domestic abuse, housing homeless veterans, equipping volunteer first responders, expanding rail trails and parks, helping communities improve energy efficiency, and dozens of other important local efforts. Every single one of these local projects and programs exists because people cared enough about helping their community to take the initiative and make a difference.
More than anything, I'm deeply proud of the work my amazing staff has done during this past year of crisis, helping thousands of people get the assistance they need and assisting them in navigating challenges with housing, employment, COVID testing, PPE, and so many other issues. While our office couldn't fix every problem, we helped with a great many, and I have been very fortunate to have worked with such a caring, compassionate, and professional group of people.
In January, Mike Martucci will take this seat in the State Senate, and I wish him the best, because we all deserve good representation, regardless of our political point of view. Until then, I will serve the remainder of my time in office with the same energy and commitment I've given this job for the last two years. We cannot stop fighting for the dignity and well-being of all people in our communities. Whatever positive change we make in the world, we make together.
I would never have had the opportunity to serve without your help and support, and for that, I am more grateful than I can ever express.
I love you all,