As a mother, town councilwoman, and advocate for our communities, Jen Metzger understands first-hand the challenges facing families in the Hudson Valley and Catskills. And she's done waiting around for our state senate to do its job.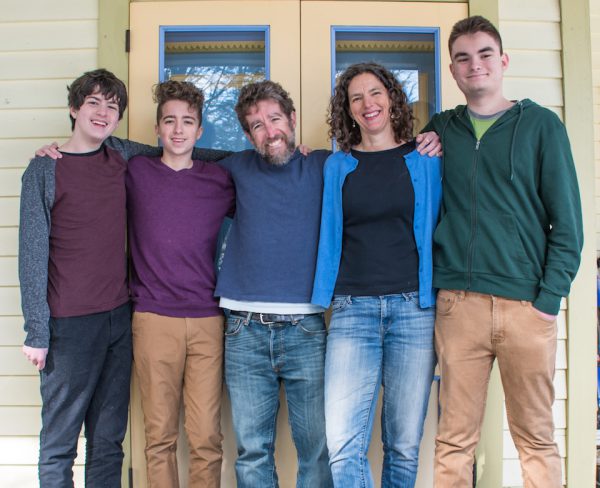 Jen Metzger is raising three sons in Rosendale with her husband, John. She has gotten a lot done as a local elected representative and leader of the nonprofit, Citizens for Local Power. Jen has successfully fought to make utility costs more affordable and fair, helped local governments save energy and taxpayer dollars, and organized dozens of town and city councils to stop new crude oil pipelines from endangering our communities. Jen stands up for families, seniors, and young people - not corporate donors. She is running because it's time for a state senate that works for all of us.
ISSUES
Health care for all of us.
Everyone deserves equal access to health care, but insurance and medical costs are completely out of control. Universal health coverage needs literally one more vote in Albany to be a reality in New York.
I have stayed up late nights working on our town budget, trying to figure out how to pay for a 20% increase in health insurance costs, provide the staff with a decent wage, and still keep taxes affordable.  It's a no-win situation, and something has to give.
New Yorkers spend $200 billion each year on health care costs. Rising health care costs force taxes up, push wages down, and squeeze small businesses out of existence. There is a better way. Universal health coverage is the only way forward.
A clean energy economy that creates good local jobs and protects our environment.
We all have the right to live a healthy life and make a decent living. When our air and water can make us sick, our government has failed.
Building more fossil fuel infrastructure is a 19th century solution to 21st century problems. I have been working with local governments for years to make real progress toward a local, sustainable energy economy that gives communities control over their own energy decisions, saves energy, lowers taxpayer costs, and provides good jobs right here at home.
In Albany, I will work to ensure that New York's private utilities, which have historically benefited from greater energy use and large-scale transmission projects, prioritize energy efficiency and support local renewables and battery storage on the grid. This will create good local jobs, reduce our reliance on fracked gas and oil, and strengthen our communities' resilience to major storms and power outages.
$25 billion worth of energy spending leaves New York every year, and almost all of it is spent on gas and oil. That is money that could be invested directly into our local economy, building out local, sustainable energy infrastructure, and increasing energy efficiency of existing structures. These are labor-intensive fields that create local jobs, and result in lower energy costs to families and businesses. It is the very definition of a win-win solution.
A strong public education system that is funded fairly.
We must fix our broken education funding system, which puts schools in the small cities and rural communities of our district at a huge disadvantage. K-12 school funding should not rely so heavily on local property taxes, public university funding should not rely on tuition, and community colleges should be funded based on how they serve their community's needs.
I was able to change my own circumstances in life thanks to a good public education. But my boys went to three different schools in three years, as funding cuts forced our local schools to close and consolidate. Many people, especially seniors, simply can't afford to pay another dollar in property taxes. This creates a vicious cycle, as it closes off opportunities for the next generation. Our local school districts can't do anything about it. The state needs to pay its fair share.
We have so much potential. Small-town New Yorkers are resourceful and innovative, willing to learn, and willing to work. But without opportunities, we can't move forward.
I will push for job-based infrastructure that increases opportunities for everyone. That means old-school infrastructure like affordable places to live, and transportation that goes from where the people are to where the jobs are. It also means new-school infrastructure like rural broadband and online training, to open up a whole world of remote and networked job opportunities.
One of the biggest areas of potential job growth for New York is in clean energy industries. These are jobs that would be created right in our own communities, making our buildings more efficient and shifting to renewable energy sources for our homes and workplaces. I will work to make sure our State government prioritizes the right kind of energy investments—the kind that create jobs, keep our energy dollars local, and help protect the planet for our children and their children.
Representatives who actually represent us.
Corruption in Albany is corrosive. Money distorts priorities and erodes our faith in government.
I will work to close off every pathway between corporate money and public officials, with zero tolerance. We can't make progress on any other issue until we have fair and equal representation.
I will fight for real economic consequences for corporations that benefit from criminal corruption.  If a corporate executive is caught bribing a public official, that corporation's business with the state should be terminated, and all state permits and contracts revoked.
In addition, I support legislation to end the many legal forms of corruption that pervade Albany. Pay-to-play laws must be extended to prohibit campaign donations from individuals and businesses seeking to do business with the state.  And the LLC loophole, which allows unlimited, untraceable cash donations to individual politicians, must be closed.
Fixing our corrupt system starts with electing representatives who represent all of the people they serve, not just the wealthy and well-connected. Public service is a solemn promise that I take seriously.  In my run for NY State Senate, I have not accepted any corporate or LLC campaign donations, and I never will. My sole responsibility is to the people I represent.