As a mother, town councilwoman, and advocate for our communities, Jen Metzger understands first-hand the challenges facing families in the Hudson Valley and Catskills. And she's done waiting around for our state senate to do its job.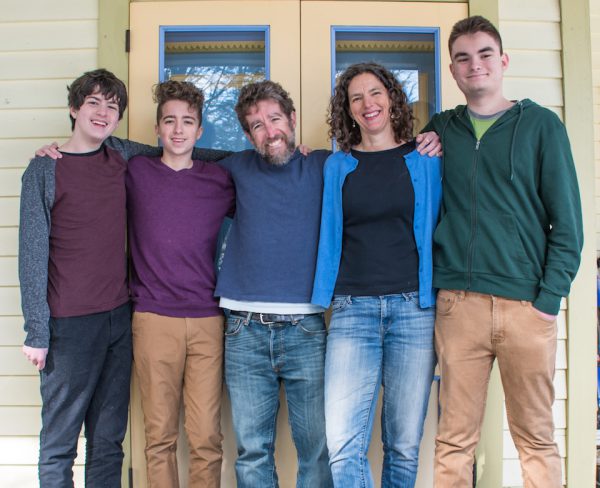 Jen Metzger is raising three sons in Rosendale with her husband, John. She has gotten a lot done as a local elected representative and leader of the nonprofit, Citizens for Local Power. Jen has successfully fought to make utility costs more affordable and fair, helped local governments save energy and taxpayer dollars, and organized dozens of town and city councils to stop new crude oil pipelines from endangering our communities. Jen stands up for families, seniors, and young people - not corporate donors. She is running because it's time for a state senate that works for all of us.
ISSUES
Affordable, guaranteed healthcare for all of us.
We need an affordable healthcare system that provides comprehensive, universal health coverage for everyone. That's why I support the New York Health Act, which will reduce healthcare costs and guarantee coverage for all New Yorkers. It needs literally one more vote in Albany to become a reality in our state.
Insurance and prescription drug costs are out of control, people aren't getting the care they need, and our small businesses can't keep up. I have stayed up late nights working on our town budget, trying to figure out how to pay for a 20% increase in health insurance costs, provide the staff with a decent wage, and still keep taxes affordable. It's a no-win situation, and something has to give.
A strong and equitable public education system that relies less on local property taxes.
We must fix the way we fund our schools. Too many people simply can't afford to pay another dollar in property taxes, and the schools in our district are at a huge disadvantage. We need to balance education funding statewide with progressive tax reform, so our Hudson Valley and Catskills schools get their fair share, and our seniors and working families get the property tax relief they need.
I was able to change my own circumstances in life thanks to a good public education. But my boys went to three different schools in three years, as funding cuts forced our local schools to close and consolidate. Our current way of paying for public education creates a vicious cycle, forcing people from their homes while closing off opportunities for the next generation. Only our state government can fix this, and we can't put it off any longer.
A clean energy economy that creates good local jobs and protects our environment.
We all have the right to live a healthy life and make a decent living. When our air and water can make us sick, our government has failed to do its job.
$25 billion worth of energy spending leaves New York every year, and almost all of it is spent on gas and oil. That is money that could be invested directly into our local economy, building out local renewable energy infrastructure, increasing energy efficiency of existing structures, and putting more battery storage on the grid. These are labor-intensive fields that create local jobs, and result in lower energy costs to families and businesses. It is the very definition of a win-win solution.
I have been working with local governments for years to make real progress toward a locally based, clean energy economy that gives communities control over their own energy decisions. In Albany, I will champion policies to make this transition easier, moving us away from reliance on fracked gas and oil, and strengthening our communities' resilience to major storms and power outages.
A government that represents people, not corporate donors.
To restore our faith in government, we must get big money out of politics. In a functioning democracy, representatives are accountable to the people in their communities, not big donors.
I will sponsor legislation to eliminate corporate campaign donations entirely, close the LLC loophole (a backdoor to additional and unaccountable corporate contributions), and drastically lower New York's very high individual contribution limits. I also support pay-to-play laws that would prohibit government contracts or tax breaks going to corporations that have made political contributions to the politicians who decide on those contracts and tax breaks.
I strongly support, and would co-sponsor, the proposed Anti-Corruption Amendment to the NY State Constitution, which would establish an independent and effective ethics commission that is not beholden to the elected representatives it is supposed to regulate, and would have real enforcement power--including powers of removal from the job or office.
Public service is a solemn promise that I take seriously.  I have never accepted any corporate campaign donations and never will. My sole responsibility is to the people I represent.
We have so much potential. Small-town New Yorkers are resourceful and innovative, willing to learn, and willing to work. But without opportunities, we can't move forward.
In the State Senate, I will push for development strategies that are locally focused and sustainable, support a diversified economy, and protect our region's unique fabric, including our local independent businesses and small farms. We need job-based infrastructure that increases opportunities for everyone. This means investing in affordable places to live, transportation that goes from where the people are to where the jobs are, expanded rural broadband service, and education and job training. Tax giveaways to big developers are not the answer.
In my town, we have made great strides toward successful revitalization by upgrading our infrastructure, encouraging redevelopment of abandoned properties, and capitalizing on our natural and recreational assets to bring more visitors to our town. Every community has its own strengths and needs, and the state needs to work more closely with individual communities to identify where local investments are most effective.
Strong protection of women's reproductive rights and health.
Our state must protect women's reproductive rights. With the retirement of Supreme Court Justice Kennedy, who cast the deciding vote on Roe v. Wade, it is more important than ever for our state to pass the Reproductive Health Act and codify women's reproductive protections into New York State law.
I am 100% pro-choice and will fight to ensure that New York women are guaranteed access to affordable, safe, and essential reproductive health options. New York State's current laws governing women's reproductive rights are antiquated and restrictive and fall far short of the protections of Roe v. Wade.
Common sense gun solutions that don't punish responsible owners.
There is bipartisan support for common sense gun solutions. I am encouraged by Republican support for recent legislation that keeps firearms out of the hands of convicted domestic abusers. Gun violence prevention must be a cooperative effort between legislators and gun owners.
I will advocate for treating gun violence as a public health issue, and I will fight for improved funding and support for mental health treatment and domestic abuse prevention. I also support universal background checks, and enacting a law to allow families, law enforcement, and school officials to work together through the courts to temporarily remove guns from individuals who are dangerous to themselves or others. Similar laws have been proven to reduce homicides and, importantly, suicides, which represent the majority of gun deaths in the United States.
Responsible legislation also means correcting gun regulations that do not actually reduce violence. For example, the 5-year renewal requirement for pistol permits has no clear goal or bearing on gun violence, but creates work for state police without improving enforcement.
A level playing field for everyone.
Fairness is not a political issue. We all deserve the same opportunities, we all deserve equal pay for equal work, and we all deserve the same protections under the law.
I support the Fair Pay Act, which would prohibit wage discrimination based on sex, race, or national origin. I support the Child Victims Act, which would bring justice for victims of childhood abuse and protect future victims.  I support legislation to prohibit employment and housing discrimination against LGBTQ employees or tenants. All of these bills have been blocked in the State Senate.
Several law enforcement agencies in our area have instituted community policing programs, assigning police officers to specific neighborhoods and constituencies, making it part of those officers' jobs to participate with those communities not just in a law enforcement role, but in a community support role.  This builds trust that pays off in safer communities, and I support these initiatives.
Sustaining our small farms and preserving our agricultural heritage.
Small farms and agricultural businesses are part of the character of our beautiful region. Dairy farming in Sullivan and Delaware Counties, the Black Dirt region of Orange County, and the small farms of the Wallkill and Rondout Valleys, all support a network of agricultural businesses across the area.
These small family businesses have to work against an industry and regulatory framework that advantages big agriculture interests.  Some small businesses have found a way forward through diversification, others by offering value-added specialty products.
We can help these businesses thrive by making sure that regulations for all small businesses are more flexible and size-appropriate. Businesses are not one-size-fits-all and regulation should not be that way either. I also support direct purchasing of local, healthy agricultural products by schools, hospitals, and other institutions, as well as creative linkages between farms and our growing tourism economy.  I will also fight for greater access to land, capital, and markets for our local farmers, to help level the playing field.